Dave Mejias Honored by New York's LGBT Network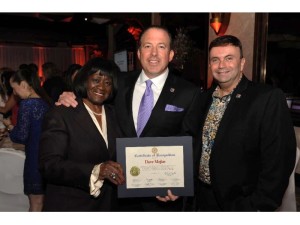 On Wednesday, May 4, 2016, the LGBT Network honored former Nassau County legislator and family law attorney, Dave Mejias at the LGBT Network "Studio 54" Gala for his continuous support of the LGBT Network and his strong commitment to the LGBT community on Long Island and Queens.
Guests discoed the night away after a touching ceremony thanking the former elected official for his efforts to keep the children in his community safe through his legislation and family law practice, Mejias, Milgrim and Alvarado. Along with the honor given to him by the LGBT Network,David Mejias was honored with a Declaration by the Town of Hempstead from Senior Councilwoman Dorothy L. Goosby.
At this year's event, the LGBT Network raised nearly $200,000. All proceeds will directly support the Network's "Safe Schools Initiative," which seeks to create safer schools for LGBT youth across Long Island and Queens through anti-bullying and youth empowerment programs. Read more