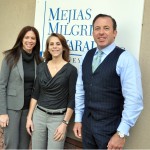 Dave Mejias Community
Long Island was founded on the community spirit. As the region became the centerpiece and model of American Suburbia, towns sprouted up around the Island, each with its own flavor and feel.
In 2012, with the hectic pace of the world, it can be easy to forget what it takes to be a good member of the community. For Mejias, Milgrim and Alvarado, PC it means sponsoring and taking part in local events, donating to local charities and maintaining a visible presence in all aspects Long Island life.
Among the other events the firm will be involved in this year is the Greater Long Island Running Club's 29th annual edition of  the Runner's Edge Long Island 5 Kilometer Women's Run/Walk.  The run will start and finish at Farmingdale High School on Saturday, July 14th 2012.
What makes it unique is it is a women-only event, and runners from all over Long Island and beyond are invited to participate. I have always been a strong advocate of women's issues and although it will be tough for me to stand on the sideline and let them have the fun, this event is important to maintain its billing as women-only. It helps bring us all together for the day and appreciate the goals of the Runner's Edge Long Island 5 Kilometer Women's Run/Walk.
Mejias, Milgrim Alvarado, PC, who will be returning as the Presenting Sponsor of the Run, and our very own Randi Milgrim, who was once again voted Best Divorce Lawyer on Long Island, will be competing in this year's run, and has set her sights on scoring well in front of her 2010 finishing time of 34:46 and her 2011 finishing time of 34:15.
Proceeds of this year's  run will once again be distributed Long Island Oceans and its efforts to battle gynecological cancers, and The Opening Word, a very special program administered by the Dominican Sisters that provides education and job training to poor uneducated women in Huntington Station, Amityville and Wyandanch.
I asked Randi what it means for her to be running this event again. Randi is an enthusiastic and energetic person who truly believes in the good of people and has a desire to be a part of the solution in everything she tackles.
"There is no better motivation to push yourself than to help make a difference in the lives of other people," she said. "It is an incredible feeling knowing that everyone around you is of the same mindset, and focused on being there for all the right reasons. It gives you an extra kick to be better and work harder. There is an energy that feeds us all. All of the participants and sponsors of this event are truly committed to that mission and it is an incredible event to be a part of."
When I founded Mejias, Milgrim and Alvardo, PC it was my vision to make the firm a true partner for the Long Island community. I have been fortunate to have partners and employees who also believe in that sentiment.
On July 14th at the Runner's Edge Long Island 5 Kilometer Women's Run/Walk, we will be there for the community again. Not only will we be cheering for our own Randi Milgrim but for everyone who is taking part.
That is the community spirit.
-Dave Mejias
Dave Mejias Community